SolarGIS climData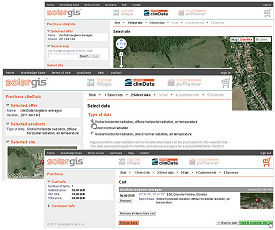 Purchase SolarGIS climData online »
OR
Download and fill in the Order form (docx file, 111 KB)
and email it on contact(at)solargis.info
climData is our online shop that makes it easier for you to order data from the SolarGIS database. With climData we promote a transparent pricing policy and are able to ensure immediate delivery of your data purchases. Data can be paid for with a credit card, PayPal, or by bank transfer.
Data Types
Solar radiation:

Global horizontal irradiation/irradiance (GHI)
Diffuse horizontal irradiation/irradiance (DIF)
Direct normal irradiation/irradiance (DNI)
Global irradiation/irradiance on tilted surfaces (GTI)

Air temperature

Average air temperature at 2 metres (TEMP)

Additional data calculated from numerical models:

Relative humidity (RH)
Wind speed at 10m and wind direction (WND)
Time Resolution
Time-series data are available with minimal time resolution 15- or 30-minute time-step or as aggregated values (hourly, daily, monthly, yearly sums).
More information on data is available on climData specification page and section Database.
Data quality is validated on the most accurate ground measurements worldwide. An independent expert study (by University of Geneva) evaluated SolarGIS as the best performing database available on the market.