Poster Maps (Wall Maps) for Solar Energy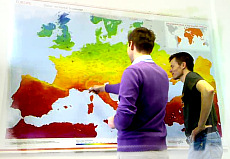 High quality and detailed poster-size maps for the solar energy community.
Maps of Global horizontal irradiation, Direct normal irradiation, PV electricity potential and Air temperature are in production for the regions and countries covered by SolarGIS database.
These sets of maps for each country or region represent unique cartographic information useful as a valuable working tool for any solar energy company.
Don't skip this:
Maps available immediatelly
For further details click on any map below
country
or
region
The main map represents
Global
horizontal
irradiation
Potential
electricity
production
Direct
normal
irradiation
Air
temperature
REGIONAL MAPS
Europe
Africa
Asia
Latin America
North America
Australia-Pacific
Middle East
COUNTRY MAPS
Angola
Benin
Bulgaria
China
Czech republic
France
Germany
India
Italy
Japan
Mexico
Federated States of Micronesia
Morocco
Namibia
Nigeria
Philippines
Poland
Romania
Saudi Arabia
Senegal and Gambia
Sierra Leone
Slovakia
South Africa, Swaziland, Lesotho
Spain
Sri Lanka
Switzerland
Thailand
Tunisia
Turkey
United Kingdom
USA
Map elements
The image below shows the outcrop from the map of France with the highlighted map items,
which are normally present in any SolarGIS poster map.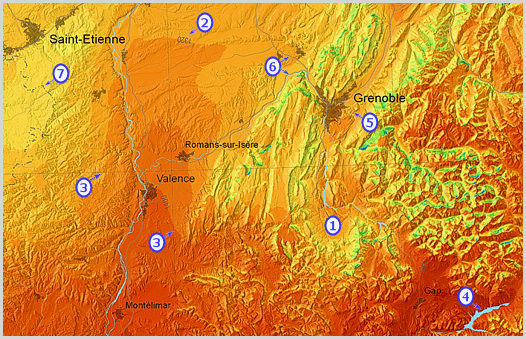 Explanation:
1
Professional cartographic quality of data interpretation,
good readability enhanced by embedded shaded relief
2
Iso-lines tagged with numerical value
3
Latitude and longitude grid
4
Water bodies
5
Urban areas with names hierarchized by population
6
Hierarchized road network
7
Inter-state and inner-state administrative borders
Features
Solar radiation and air temperature data from SolarGIS database
High resolution of the data (spatial unit of 250 m x 250 m) calculated by new algorithms and detailed Digital Elevation Model
Enhanced color legend shows many spatial details
Professional cartographic quality, good readability, with detailed support topographical information (city shapes, road network, administrative boundaries
Support supplemental information available in the form of smaller maps
Explanatory text informing how to interpret the map content
Benefits
Ideal tool for pre-feasibility studies, and preliminary site qualification
Bilingual (on request): national plus English
Fast access to the information, working tool saving time and money
Low investment with high added value
This information package is first to be seen in such level of detail and information content
Maps are complementary to SolarGIS
Contact GeoModel Services for more information.